My Toronto: Priya Panda of Diemonds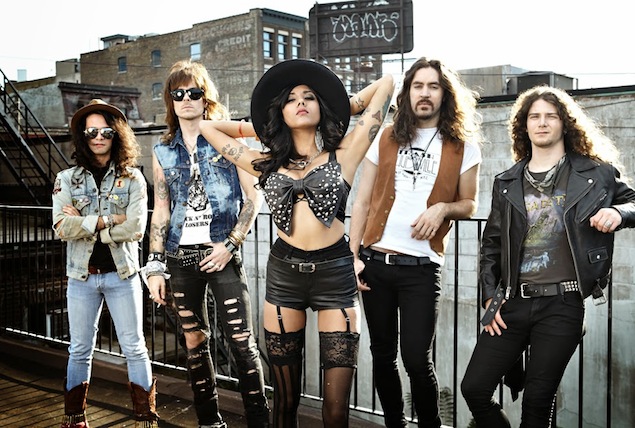 In My Toronto, we ask musicians to discuss the local artists, institutions, and phenomena that have had a profound influence on them. In this edition, Priya Panda—the garter-belt-clad lead belter for hard-rock heavyweights Diemonds—shines a little light on the dungeons and dives that shaped her band's tougher-than-leather sound.

R.I.P. 98 Carlaw: This was our jam space from the time we pretty much started Diemonds in 2006, until earlier this year when we hit the road for SXSW and were asked to leave for new tenants. Located in an industrial no-mans land, it's sandwiched between Leslieville and the Lakeshore, but belongs to neither of those coveted neighbourhoods. The spot was most recently made famous for housing the new and improved Hells Angels Support Wear store and hangout. It's undoubtedly where we were inspired to create our first record, In the Rough, in 2008. The dark, dingy, concrete bunker of a basement had two huge rooms, a rarity in this city. Ours was in the back and we had to walk through the first room to get through it. That one was used by tons of bad-ass musicians in its time, including multiple Ben Cook projects like Marvelous Darlings and The Bitters as well as our bros in Skull Fist. The parties we had were there were absolutely legendary, from what I can remember. They went on for days and nights because not a shred of natural light ever got in. You never knew what time it was. We tried to capture one of those endless nights in our first music video for "Highway," which showcases the space in all its glory, plastered wall to ceiling in every piece of hard-rock and pop-culture memorabilia we had. For our next album, The Bad Pack, we recorded some of our guitars down there, and [producer] Jon Drew came down to our little hovel in the east end and we drank whiskey and had a time and made a record. Needless to say, we were definitely sad to see it go.

Gale's Snack Bar: This place was right next door to our space. We miss the server Ida and hanging out with the locals, drinking homemade milkshakes that cost less than $1. This place was a service to the community, and they haven't seemed to change the prices since the '70s. We ate here way too often. Many tours were conceived in those squished booths over endless cups of coffee and homemade pie.

The Bovine: Everyone in the city has had a "drunken stupor" at this place. I think I've personally had at least a hundred, and not only is that okay, it's encouraged. But what's a few drinks between family, right? We played our first real show at the Bovine in January 2007 and since then we've been back for tons more. When we're not on tour, it's definitely our local watering hole and most people would be surprised at the number of random musicians and actor types who also call it their home bar when they're in Toronto. It's an easy place to be. Stiff drinks, live music, and a shitload of familiar faces like Darryl [Fine], the owner, who's the man. Since the "Yippie" takeover of Queen Street over the last few years, the Bovine is like a nice, warm hug made of Jager.

Trash Palace: This place is such a gem. It's an underground cinema society that screens really interesting movies-on-film every Friday. Sometimes, the films are strange, sometimes Canadian, or dark, or foreign but usually they're all unintentionally funny. Often, the movies are served with stellar homemade snacks like pulled-pork sandwiches. It's kind of perfect. It's run by this really great dude named Stacey, who also owns a screen-printing company called The Merch Guy, where our guitar player C.C. used to work. Trash Palace is so Toronto. You would never know about it unless you live here. I feel like everyone who has ever been really treasures the fact that it exists and I like that feeling.