The Creepshow Interview with Sean McNabb by Duncan Spence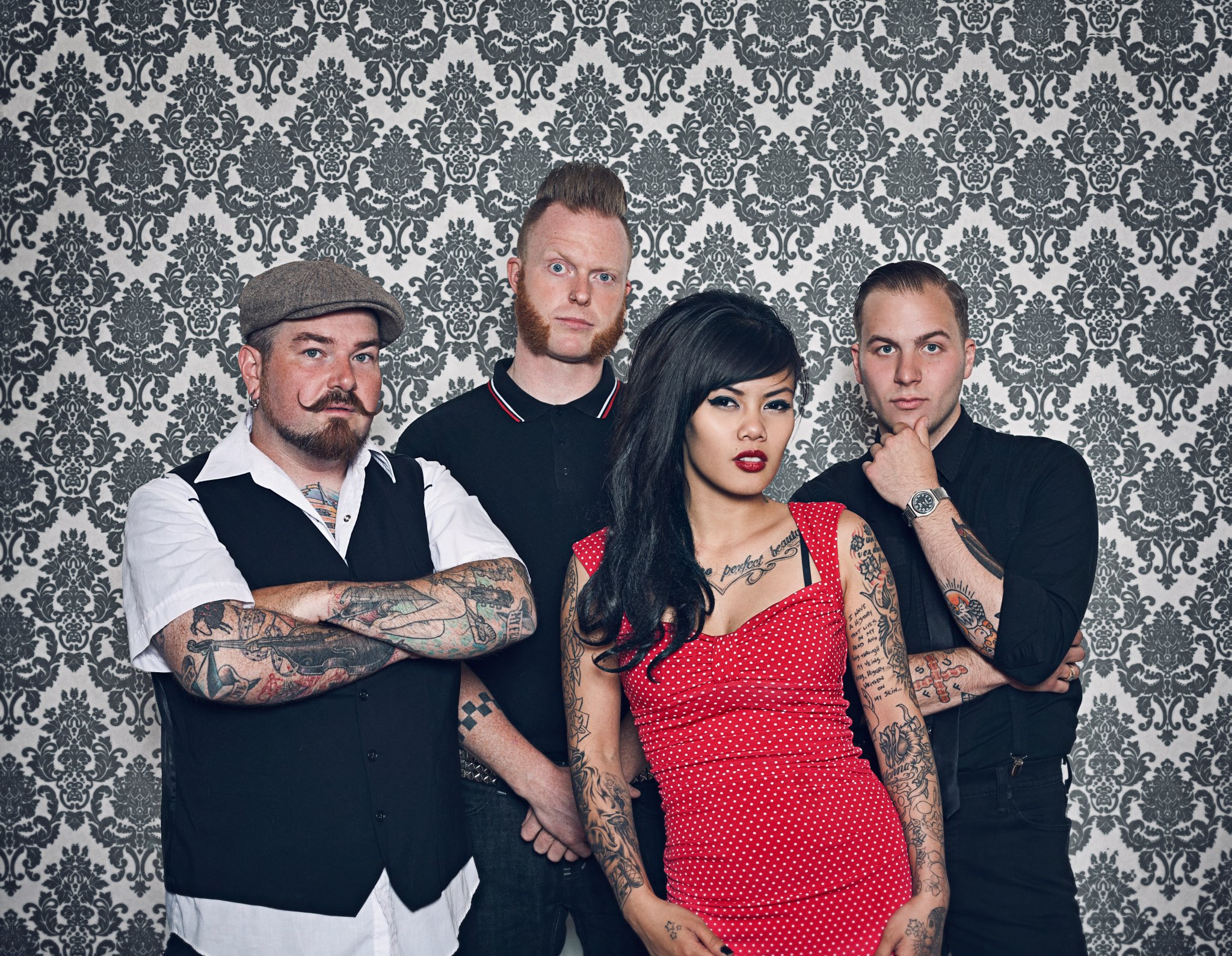 The last year has been a transitional one for Burlington's The Creepshow, but with hunger and tenacity shared only by the un-dead, The Creepshow have risen again. This time with Kenda Legaspi is handling the vocal responsibilities, and according to to bass player Sean McNabb--handle them she does.

Sean was kind enough to answer some questions for us last week. This is what he had to say about Kenda, The Creepshow's recent transition, Fake Spanish cops and what it is like to play in Russia.


So you folks in The Creepshow have gone through a fairly serious transition over the last few months as Sarah Blackwood has exited the band and Kenda Legaspi has entered as your new vocalist.

Could you tell me a little bit about how this change came to be and the the process you all went through during this transition?
SEAN
- The Creepshow has always been about touring , playing shows, and having a blast doing what we love. In the past year or so, the band has become more of a part-time thing. So collectively, we all decided that it would be best to part ways, get a new singer, and get back to it!
Did The Creepshow always have Kenda in mind as a new vocalist?
SEAN
- Changing your lead singer is a very sensitive thing...We had to find the right person, it couldn't just be anyone. We had a few in mind to try out, and then a longtime friend Ben Rispin of Saint Alvia and The Video Dead, told us to check out Kenda and said she would be perfect. A few days later I checked her out, and found some YouTube videos of her singing, and my jaw hit the floor--and it sure doesn't hurt that she is drop dead gorgeous! So i sent her a message on Facebook, and she called me right away and was super excited. We auditioned 3 different girls a week later, and Kenda was the last of the 3 to try out. Pretty much as soon as she opened her mouth and spit out a few lyrics to one of our songs, we all looked at each other with huge smiles. She was perfect! It also doesn't hurt that she is one of the nicest people we've ever met, and also a kick-ass tattoo artist.
Was there ever a point that you figured you couldn't go on without Sarah being that she has been in the band over 5 years and has been the vocalist throughout your rise to infamy?
SEAN
- Never! We have gone through a singer change before, it sucks balls, but the Creepshow has always been about 4 equal members, not just about 1 person. The response has been super positive so far, and we can't wait to start playing shows again and touring!
So as far as the live set goes how have things been shaping up?
SEAN
- So far so good! We've also added another guitar player for this tour which is something we've never had before, we are stoked on how full we are sounding!
How has Kenda coming in changed the dynamic of the live performance? or has it?
SEAN
- Her voice is absolute dynamite, I don't think I've ever heard a more amazing voice, and adding a second guitar player will give her the option to throw down her guitar and jump in the crowd when she gets the urge! We are really stoked!
Whats next from the Creepshow camp?
SEAN
- After this weekend, we head to Germany and the UK for 2 weeks! Then in september we have a few festival dates around Ontario, and then a run of shows with the Dropkick Murphys in the U.S. In October we'll be headlining a cross Canada tour which we are super excited about because its been a while! During this whole time we'll be working on our new album, which will hopefully be ready to record in the winter and released in the fall.
I couldn't help but notice that you have worked with Steve Rizun on a most of your past material. I know Steve, he's worked on some great records in his career and he is a bit of a joker.
SEAN
- Yes! We love Steve, he is hilarious to work with and makes us sound awesome! It's really hard to find someone who can translate our live show into a recording, and we feel he does that for us, and keep getting better and better.
That said Drive (Steve Rizun's studio) has it's base camp up in Woodbridge. It's a strange place could I get your take on it?

SEAN
- We are Tim Hortons junkies, and there is one right by the studio. We always find it odd that people in souped up Honda Civics will party in the Timmies parking lot on saturday nights--weird.
Hanging on the note of strange places, you cats have played up one side of existence and down the other. What are some of the most memorable, unique or crazy places you've played?
SEAN
- We got the opportunity to play a few shows in Russia a couple years ago. We had no idea what to expect, but the shows were packed, and everyone was singing along to the words of our songs! At one point , the whole crowd in Moscow started chanting, "WELCOME, WELCOME." It sent shivers down my spine. Definitely one of my favourite touring moments.
Many musicians describe those pay-off moments. Times when your standing on stage and it just hits you -- this is why I do this with my life. Have you ever had an epiphany like that?
SEAN
- Yes, definitely the Moscow thing in the last answer but the first time I ever felt that, was the Creepshow's first ever show in Germany. A small bar in Heilbronn, Germany called STEREO TOTAL contacted us about playing a show there for Halloween in 2007. We were all mind-blown that anyone overseas had heard of us because we were so new at the time. We ended up booking about 7 shows over there , and played the Halloween show 1st. We were expecting it to be a ghost town, seeing (as) we were just this new band, and didn't even have a full length cd out yet. But the place was rammed, and everyone new the words to our songs! It gave me goosebumps.
I would expect you have had many moments like that could you tell me about some of the more powerful things you have experienced as a result of playing music?
SEAN
- It's always been a huge dream to play music in Japan & Australia, and we got that opportunity last year! We played a HUGE travelling festival in OZ called Soundwave that hit every major city over there. Somehow we ended up on the main stage , sharing it with bands like Alexisonfire, Jimmy Eat World, Taking Back Sunday, Janes Addiction, Faith No More, AFI, & Paramore. It was absolutely mind-blowing. We also got to play a huge festival in Japan called Punkspring, and we got to play in front of 8000 people that day--Definitely one of my favourite shows of all time.
I would love to hear the fake cops in spain tale that is referenced on your web site. I searched for it but couldn't find a written record of it. Could you tell us that story?
SEAN
- It was near the beginning of a 6 week European tour. We had just played a big festival in Germany , and a show in Barcelona, and were heading to Bilbao, Spain. We ran out of gas on the highway just outside of Barcelona, and were stuck there for a few hours, seeing everyone in the van only spoke English and German, and finding someone who speaks English in Spain is pretty tough. It was also super hot, so a few of us decided to go get some cold beverages. About an hour later, I got a text from Sarah saying, " come back to the van, we just got robbed." It was 2 fake police officers, who went through the van, found our envelope of money, and used hand trickery to steal all the large bills, and then took off. We finally got the van towed, and got some gas. By this time it was too late to make it to the show in Bilbao, so we drove back to a friends house in Pineda (near Barcelona) had a big dinner and got drunk so we could forget about the days events. Then the next day we headed on our way to the next show and the rest of the tour! Shit happens, you just gotta suck it up, and carry on!
I once heard about a desert festival put on by nomads and I gotta say, I would have killed to have had that experience! You played Soundwave festival in Australia. Is there anywhere you haven't played that you dream about playing?
SEAN
- We would love to play the Huge ROCK AM RING festival in Germany. I've watched a few videos online and its absolutely gigantic!
Is there anything you want to say regarding the Creepshow moving forward?
SEAN
- We can't wait to start playing shows and touring again! Hope to see everyone out at the upcoming shows, and having a blast, singing along and dancing! You can check out our tour dates at
www.thecreepshow.org/tour
.